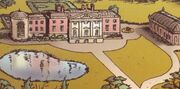 Heddleham Hall
is the estate of the late 
Amanda Cathcart
, located on the outskirts of London. People such as Angus Nash,
Rufus Lime
,
Rupert Devereaux
and
Tim Hildick
went there during
Simon Lovelace
's plan to take over the government. It was damaged heavily during the attempt, and it's unknown what became of it after Cathcart's death.
The estate has an expansive garden with a lake. Inside, it has a large, well-equipped kitchen where numerous cooks can work, and a cloakroom nearby this. In the center, there's a large foyer, which can be looked down on from the first floor, and a chandelier lies in the middle of the ceiling above it. From this foyer, the aforementioned places can be accessed, and, above all, the main hall can be accessed - a large, circuclar hall with a floor made of glass, under which lay the immense carpet depicting various important magicians of the time, which covered the large pentacle used to summon Ramuthra. On the second floor, there's a large library with many full bookshelves, presumably containing books on magic, and a display table by the entrance which once held assorted trinkets, including prague cubes. It is here that Maurice Schyler died.