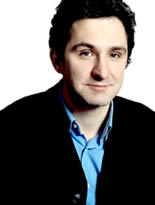 Jonathan Anthony Stroud
was born on the 27th October 1970 in Bedford, England, and is the author of the Bartimaeus books. He began writing stories at a very young age and grew up in St Albans, where he enjoyed reading books, drawing pictures, and writing stories. He was often ill from 7-9 years old, so to occupy himself in his sickness, he would read books. He studied English literature at the University of York, and after completing this he worked in London as an editor for the Walker Books store. During the 1990s, he started publishing his own works, which rapidly became popular.
The Bartimaeus Trilogy is one of his most prominent works, a special feature of these novels compared to others of their genre being the examination of the stereotypes and ethics of the magician class and the enslaved demons by telling the story from the perspective of the sarcastic and slightly egomaniacal djinni Bartimaeus. The books in this series are The Amulet of Samarkand, The Golem's Eye, Ptolemy's Gate and The Ring of Solomon.
He currently lives in St Albans, Hertfordshire, with his two children, Isabelle and Arthur, and his wife Gina, an illustrator of children's books. His more recent novels include Heroes of the Valley, released in paperback in April 2010 and the fourth book from the Bartimaeus series, The Ring of Solomon, which was released in October 2010. On March 21, 2012, Jonathan announced a new project via his blog – Lockwood & Co..[1]